Jakarta – An initiative that encourages open data and information sharing on natural resources, as well as providing collaboration between stakeholders, Extractive Industries Transparency Initiatives (EITI) can enable the acceleration of just energy transition. In the context of mineral transition, multiple EITI Indonesia stakeholders, supported by the International EITI Secretariat, have prepared a study on "Governance Risks in Indonesia's Critical Mineral Value Chain for the Battery Industry" and a study on "Community Engagement in Equitable Energy Transition through EITI Implementation in North Morowali Regency."
Publish What You Pay (PWYP) Indonesia, supported by the International EITI Secretariat and USAID, held a hybrid Public Discussion entitled "Encouraging Equitable Mineral Transition Through EITI Implementation in Indonesia" on March 30, 2023, in Central Jakarta. The purpose of this public discussion is to disseminate and discuss the follow-up of the two studies as well as gather input for the EITI Indonesia Multi Stakeholders Group (MSG) in improving natural resource governance and realizing a fair mineral sector energy transition, especially for the community, 
Present as Keynote Speaker at the public discussion were Sampe Purba, Expert Staff for Economics and Natural Resources of the Ministry of Energy and Mineral Resources (ESDM) and Chair of the EITI Indonesia MSG; study presenters namely Aryanto Nugroho, PWYP Indonesia National Coordinator, and Harya Dwi Nugraha, Ph.D., Lead Researcher Pertamina University; and responders, including Djoko Widajatno, Acting Director of the Indonesia Mining Association (IMA), Astrid Debora Meliala, Civil Society Representative in the EITI Indonesia Implementation Team, Emanuel Bria, Asia Officer of the EITI International Secretariat, and Feri Kurniawan, representing the Assistant Deputy for Mining, Deputy for Investment and Mining, Coordinating Ministry for Maritime Affairs and Investment.
Giving her opening remarks, Natalia Soebagijo, Chairperson of the PWYP Indonesia Steering Committee, addresses that Indonesia, as the world's largest nickel producer, would naturally exploit this mineral resource to support its development programs, including the acceleration of the energy transition. However, it is crucial to oversee this ambitious plan so that it does not negatively impact society and does not damage the environment to maintain sustainability and justice.
Sampe Purba stated that EITI Indonesia– as an extractive industry transparency mechanism where transparency tasks are carried out under several Ministries and Institutions, including the Ministry of Finance, and the Ministry of Energy and Mineral Resources of the Republic of Indonesia, can play a role in ensuring mineral transition governance in Indonesia. These roles include transforming extractive industry transparency reporting from manual methods to mainstreaming systematic disclosure. Mainstreaming EITI has a company reporting mechanism to the government where the government presents/opens data through a routine government reporting administration system; then, the data is routinely and systematically introduced to the public as a business-as-usual process.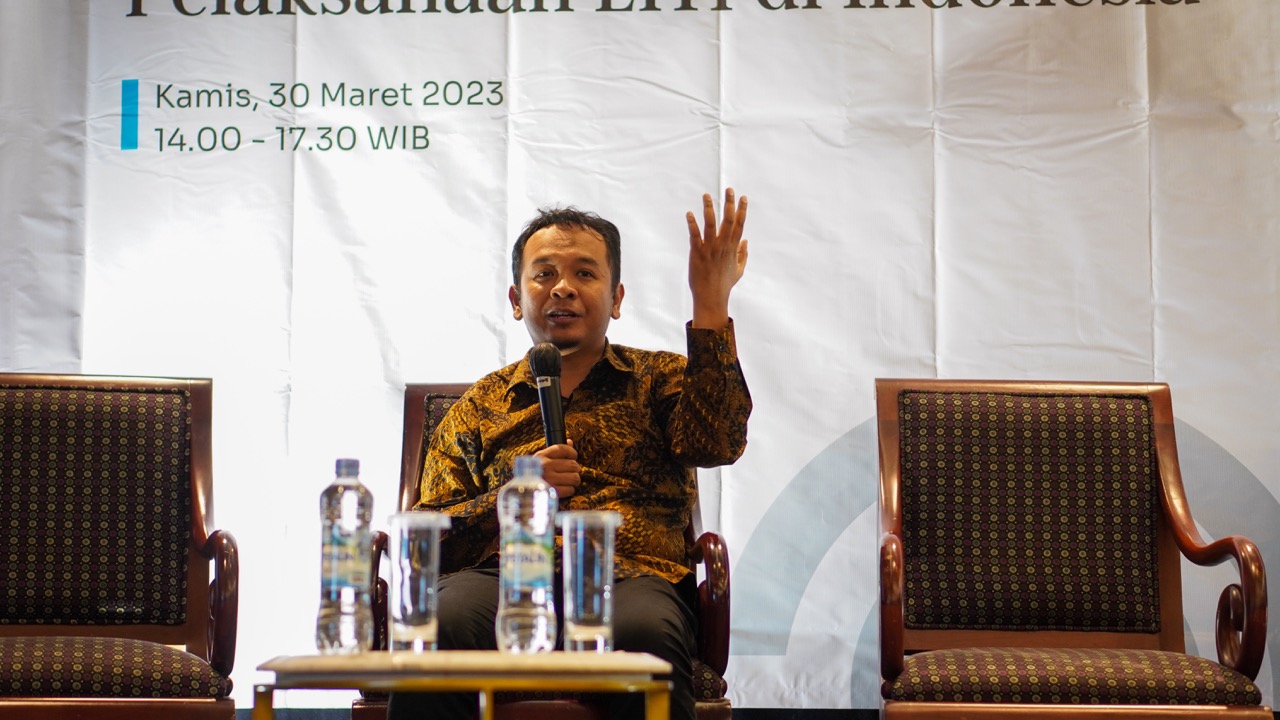 Aryanto Nugroho revealed that the study "Community Involvement in Equitable Energy Transition through EITI Implementation in North Morowali Regency" was conducted to find a gap analysis between EITI standards at the global level adopted at the national level and compare their implementation at the sub-national level. There are several components assessed, namely (1) regulation and institutional framework, (2) production volume and value, (3) licenses and company information, (4) local budgets and revenue streams, (5) broader economic contributions, and (6) environmental and social impacts. Some of the study's findings include the lack of information related to mining regulations and policies that the community can access; license data such as volume, production, and AMDAL (Environmental impact assessment) documents are still difficult to access; information and data related to renewable energy projects are also inadequate.
Meanwhile, Harya Dwi Nugraha presented some findings from the study "Governance Risks in Indonesia's Critical Mineral Value Chain for the Battery Industry," including the current centralized approach to mineral management places all administrative issues to the central government, which has limited resources to handle, risking weak due diligence supervision, licensing supervision and law enforcement. In addition, there is a risk of abuse of the ease of doing business provided by current regulations and policies.
Ferry Kuniawan, in his response, said that the challenge of synchronizing data in the regions needs to be improved. Through the MSG EITI, Indonesia can strengthen transparency in every energy transition process, especially those that impact society. Emanuel Bria responded to several impacts that may occur in the mineral transition process directly faced by the community, the principle of Sustainable Development Goals (SDGs), which must always be a recommendation on how to encourage community involvement in processes, especially extractive industries, and the transition to clean energy. The role of EITI in accommodating stakeholders is expected to be more in-depth so that the EITI report is helpful for the community and the Indonesian nation.
Author: Chitra Regina Apris
Reviewer: Aryanto Nugroho