In early March 2020, President Joko Widodo had officially announced that there are Indonesian citizens who have been infected the Corona Virus or Covid-19 which shocked the government and the public. Day by day infected people are increasing, hence the government declared national emergency status to control the disease from local to national level. Several local governments enacted Large Scale Social Restriction which known as PSBB and also several other policies have been adapted to adjust local wisdom and people's condition in one region.
Besides controlling the virus outbreak, the government facing other obstacles. PSBB and similar policies have been giving many impacts. One of them is microeconomics and macroeconomic crises. Moreover, hoax news and inaccurate data also increasing public panic.
The obstacle of Covid-19 disease needs synergy from many parties and cross-sector. To remind the impact from that outbreak is not only from the health sector but also from other sectors. Therefore, it is important to the government to provide quick, transparent, holistic, update, and accurate information hence every policy that will be made by the government will be accepted by the public. One of the important things to be concerned by the government is how to make policy that is related to public response and needs. Therefore, the government's policy is capable of accommodating people's input efficiently and effectively.
In this condition, One Data Policy is an important element that could be used to control and handling the COVID-19. With one data, information to handle the pandemic and its impact could be more accurate and informative. Therefore, public participation will increase and, in the end, it will create an accountable government.
Related to that, on 23 April of 2020, Publish What You Pay Indonesia held the online discussion with the Local Government of Semarang City and West Nusa Tenggara (NTB) Province. That discussion is purposed to dig what policy that has been used by these two government to cure the problem of COVID 19 and its impact, especially related to how the they distribute quick and accurate data and information to the public. On that discussion, Mr. Bambang Pramusinto as Head of Communication and Information, Statistic of Semarang Province, and Mr. I Gede Putu Aryadi as Head of Communication and Information, Statistic of West Nusa Tenggara Province were presented as speaker.
At the beginning of the discussion, each local government explains the update condition of the COVID 19 outbreak in their regions and what policy is chosen to speed up the handling of Covid-19. Both Semarang and NTB have not yet adopted the PSBB policy, and currently, the local government is focusing on tracking vulnerable spots and areas, as well as the cluster spread of the Covid-19 virus in their area. This is an important matter for the government to focus on the handling of the outbreak.Regarding the policy of information dissemination to the public, the West Nusa Tenggara Provincial Government and the Semarang City government already have a portal related to Covid-19, which aims to facilitate the public in accessing updated, accurate and valid information.
I Gede Putu Aryadi, said that "The West Nusa Tenggara Provincial Government has created a special portal to control covid-19, namely corona.ntbprov.go.id. The portal contains information related to positive cases and the distribution of covid-19 which is updated regularly and presented with data disaggregated by age and sex" Gede said. This sorting data related to age and sex is important because it provides information on how individual the level of a vulnerability is, whether more is the age group of children, or the elderly, or more vulnerable men or women, and so forth.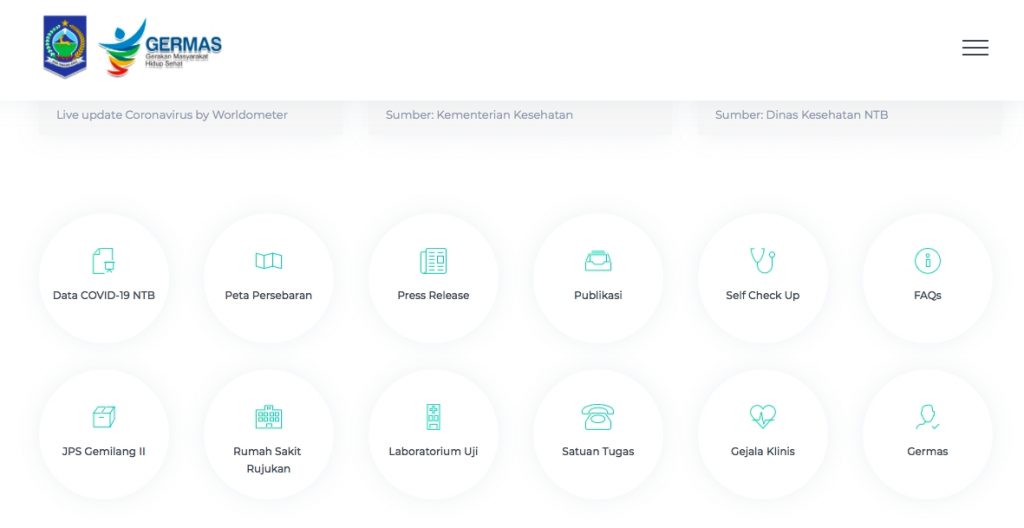 Covid-19 Pandemic not only has an impact on the health problem, but also affected the economy, both in macro and microeconomic. Therefore covid-19 pandemic data that has been collected is used by the provincial government to control those problems. "West Nusa Tenggara Provincial Government is ensuring and stimulating economic activity by stimulating small and medium enterprises to produce face mask and others that will give to the public as social assistance", Gede Said.
Semarang provincial government also has a portal that provides covid-19 information that can be accessed through https://siagacorona.semarangkota.go.id/. "This portal provides updated information about positive case data and several forms of newcomer report, patient referral health facility data, assistance data, volunteer lists, availability of medical devices, and other information about the pandemic covid-19 in Semarang City, "Bambang Pramusinto said.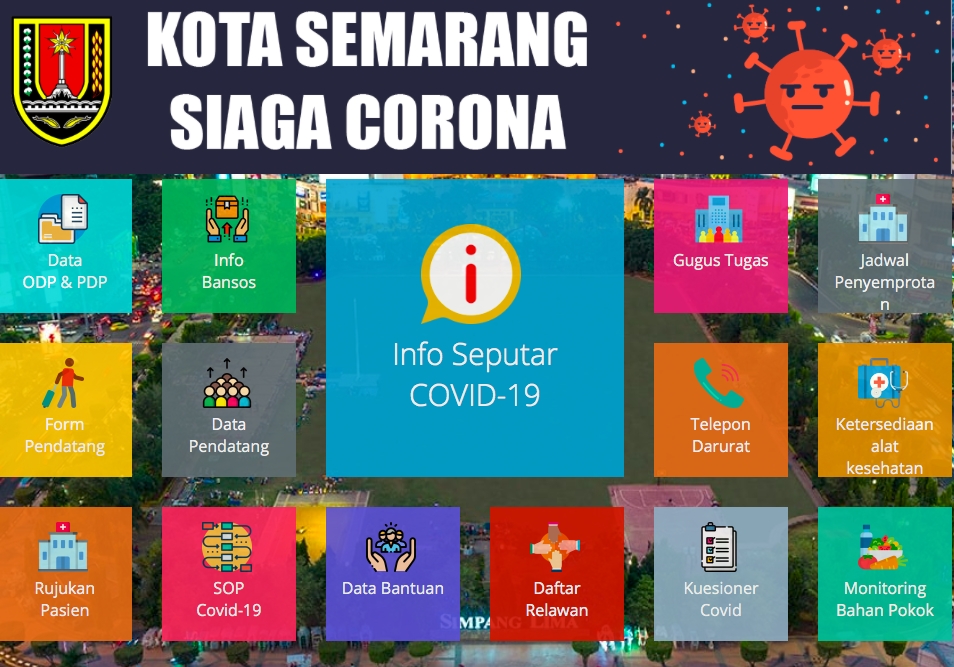 As there is in West Nusa Tenggara Province, Semarang City Government also realizes beside the health aspect, the economic aspect is one of the things that must be addressed and handled by the government. The Semarang City Government has provided several assistance frameworks using both the local budget and donors. Management of this assistance is done transparently through the Covid-19 information portal as well. Bambang stressed that "Lately news is rife in various regions discussing issues related to social assistance to the community, to anticipate this, the Semarang City Government will prioritize transparency related to aid data to the public so that the Semarang City Government presents the aid data feature in the Corona Standby Portal". It is expected that these features will minimize public complaints.
Public needs valid and accurate data and information. Therefore, local government must act quickly to provide data for the public. Another side, the public should support the government by following all the rules and advice from the government to control covid-19. Therefore, the acceleration of controlling the Covid-19 pandemic is not just a slogan, but it can be truly realized by the collaboration of all parties. (ML)