Jakarta – Corruption in the extractive sector remains a severe and threatening issue, both at the global and national levels. The Panama Papers and Unaoil Leaks reveal the fraudulent practices of oil and mining industry players. Corruption in the extractive value chain is a significant obstacle to the national development as it alters the efficient allocation and distribution of resources to achieve development goals. The Organisation for Economic Co-operation and Development (OECD)'s report shows that one in five transnational bribery cases occurs in the extractive sector. This shows that corruption increases the cost of doing business and deprives countries of much-needed revenue.
Indonesia is one of the leading producers of critical minerals, yet it scores low on the Corruption Perception Index (CPI). Indonesia's CPI dropped 4 (four) points, from 38 in 2021 to 34 in 2022, which also resulted in the ranking that dropped 14 notches, from 96 to 110 out of 180 countries. One of the data sources for Indonesia's CPI that experienced the most significant decline was the Political Risk Service (PRS), which was 13 points. The indicator highlights corruption in the political system, conflicts of interest between politicians and businesses, and the payment of bribes for export and import licenses.
Conflict of interest (COI) is not always associated with corruption. However, a COI situation can encourage a person in a position as a policymaker to act and decide from a subjective point of view that benefits certain parties. This was revealed by Ahmad Qisa'i, Anti-Corruption Advisor USAID Indonesia, in the Publish What You Pay Knowledge Forum (PKF) entitled The Role of Extractive Industries Transparency Initiatives (EITI) in Supporting the Anti-corruption Agenda on February 15, 2023. Business ownership by executive officials and legislators can be a source of COI. Therefore, extractive corporations must report their beneficial ownership (BO) to prevent COI.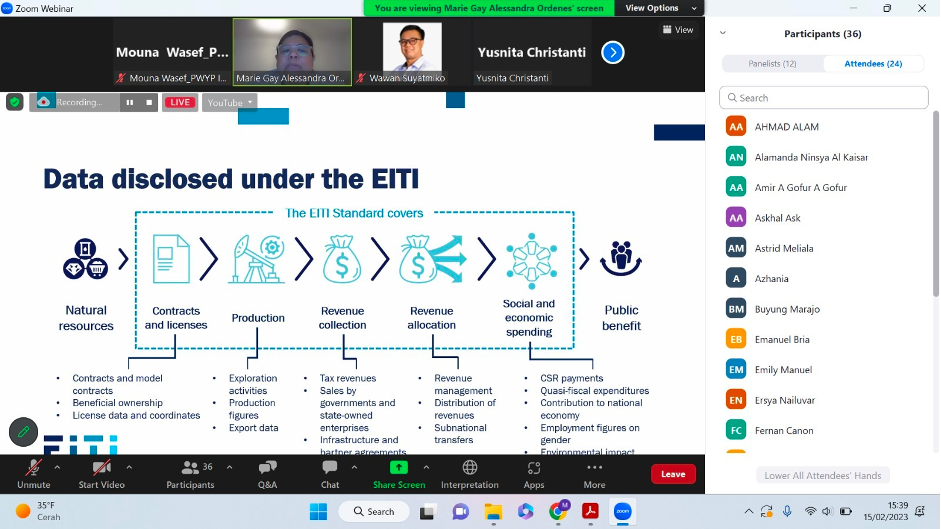 The rules on BO reporting are stated in Presidential Regulation No. 13/2018 regarding the Implementation of the Principle of Recognizing Beneficial Owners of Corporations in the Context of Preventing and Combating the Criminal Acts of Money Laundering and Terrorism. This is also stated in the 2019 Extractive Industry Transparency Initiative (EITI) Standard, requirement 2.5. Indonesia is one of the EITI implementing countries, meaning that Indonesia is also obliged to disclose sufficiently detailed information to the public about how revenue management from the oil and gas and mining sectors is carried out, including disclosing BO data.
"EITI could play an important role in strengthening the anti-corruption agenda," said Marie Gay Alessandra Ordeness, Asia Director and Anti-Corruption Lead, EITI International Secretariat.
EITI can reveal natural resource governance practices that are vulnerable to abuse, identify contracts and transactions that harm the public, support monitoring, and advocacy by civil society, and encourage global norms and policies related to anti-corruption. Marie Gay also explained the critical role of the Multi-Stakeholder Group (MSG) in preventing corruption. According to her, MSG can support citizen discussions on corruption prevention, monitoring, and advocacy. For example, the MSG can follow up on data that is not synchronized in the EITI Report with payments that are not recorded at the Indonesian Ministry of Finance.
Wawan Suyatmiko from Transparency International Indonesia also expressed the importance of public aspiration and involvement in preventing and fighting corruption. The participation of community groups and the media in policy-making access must be guaranteed by the Government and the House of Representatives (DPR) so that the policy is held accountable. The government must ensure access to data for the public. Information and data that is easily accessible to the public need to be guaranteed as the public's right to obtain information and data in a fair and equal manner. It is also important to encourage an anti-corruption-based economic orientation. The orientation of economic growth and ease of doing business must guarantee anti-corruption principles. The package of deregulation, de-bureaucratization, and decentralization must be accompanied by the compliance of the business sector that is oriented towards integrity and anti-corruption.
Head of the Data and Information Center (Pusdatin) of the Ministry of Energy and Mineral Resources (ESDM) Agus Cahyono Adi revealed that the Government continues to strive to improve good governance in the extractive sector. EITI provides a framework for transparent and accountable governance. Not only through EITI, but anti-corruption initiatives in the extractive industry sector in Indonesia are also outlined in Corruption Prevention Actions, including the one map policy, BO transparency, IT-based systems in the licensing business process, integration of licensing applications at the Ministry of Energy and Mineral Resources with Online Single Submission and taxpayers, and implementation of the Anti-Bribery Management System. From these various efforts to improve governance, revenues from extractive industries are expected to have a significant impact on reducing poverty and improving people's welfare.
PKF is a discussion and knowledge-sharing forum organized regularly by the Publish What You Pay (PWYP) Indonesia coalition, intending to increase understanding and capacity and develop public discourse.
Author : Mouna Wasef
Reviewer : Aryanto Nugroho