TIZA Mafira reacted as soon as Financial Services Authority Board of Commissioners Chairman Mahendra Siregar announced plans to revise Indonesia's Green Taxonomy. Tiza, the Director of the Climate Policy Initiative (CPI), contacted her colleague, an OJK official, about the plan. The official, Tiza revealed, said he would invite CPI to discuss the Green Taxonomy revision material. "He said they need input from academics," Tiza told Tempo on Wednesday, September 13.
OJK released the Indonesian Green Taxonomy in January 2022. The Green Taxonomy is a classification of economic activities based on assessing their business activities, whether they meet environmental protection and good governance standards or otherwise. OJK compiled the Green Taxonomy based on the Indonesian Standard Industrial Classification (KBLI), which consists of 2,733 sectors. The Green Taxonomy guides banks and financial institutions to channel funding to business sectors based on their risk or environmental impact. This is also one of the green economy indicators.
In this list, OJK gives a color label. "Green" applies to business sectors that protect and improve environmental quality. "Yellow" is given to industries that protect the environment if they meet specific standards. "Red" covers business sectors that do not meet environmentally friendly standards. This color label is the basis for preparing incentives and disincentives, information disclosure and risk management guidelines and creating environmentally oriented products or projects or green financing.
When the OJK announced plans to revise the Green Taxonomy, something surprised Tiza and other environmental activists. OJK wants to include coal and the construction of coal-fired power plants (PLTU), initially labeled red, to the green label. The green label applies if the coal power plant is in the process of energy transition so that it is eligible for sustainable financing. This change triggered a stir, as well as various allegations.
When compiling the Green Taxonomy, OJK reviewed 2,733 business sectors that would fall into specific categories. The environmental impact threshold of 919 businesses has been clarified. Of that number, only 15 business sectors meet the green criteria; the rest are in the yellow and red categories. OJK then ran a pilot project in July 2022 against 17 commercial banks. These banks had to report on lending to large debtors. Based on these criteria, OJK and the banks can determine which debtors are eligible for sustainable financing whose capital, among other things, comes from environmentally oriented bonds.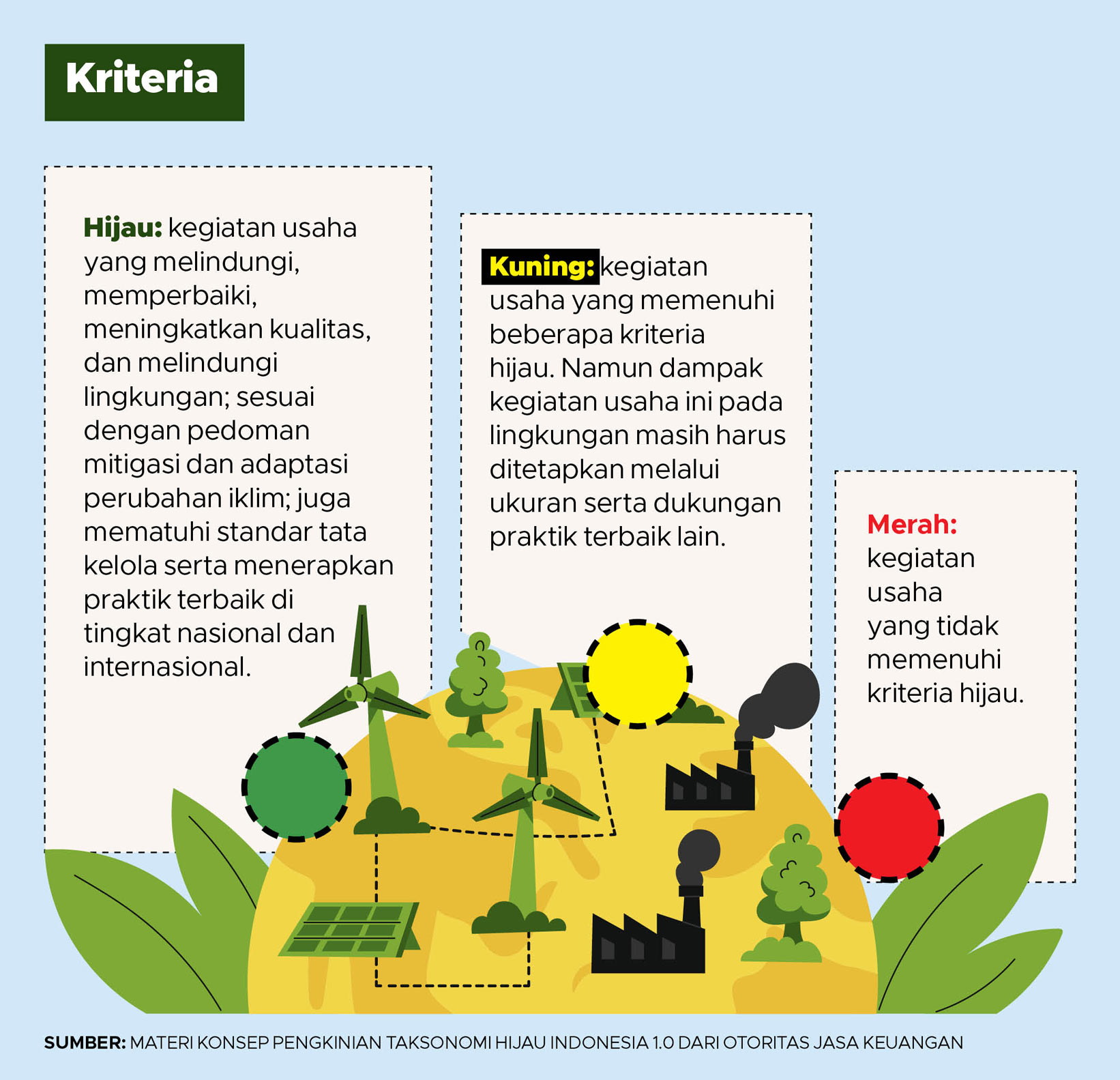 In September 2022, OJK conducted a Sustainable Finance Implementation Survey, which included version 1.0 of the Indonesian Green Taxonomy. However, several events emerged, eventually becoming the basis for OJK to revise the Green Taxonomy.
Presidential Regulation No. 112 of 2022 on the Acceleration of Renewable Energy Development for Electricity Supply was issued in September. One of the essential points of this regulation is the exclusion of a moratorium on the construction of coal-fired power plants for their own needs that are not included in the PT Perusahaan Listrik Negara (Persero) or PLN network. The government allows the construction of new coal-fired power plants as long as they are only used in industrial areas or natural resource processing projects.
Developers of industrial estates or owners of natural resource processing facilities, such as mineral smelters, may build this power plant as long as they fulfill several conditions. They must be able to reduce greenhouse gas emissions by 35 percent after ten years of operating the off-grid PLTU or outside the PLN network. The power plant can only work until 2050.
Southeast Asia also has several triggers for changes to the Green Taxonomy. The Asian Development Bank (ADB), for example, sponsors the Energy Transition Mechanism (ETM) scheme, low-cost funding for projects to stop the early operation of PLTU in Indonesia. The Just Energy Transition Partnership or JETP scheme is also a US$ 20 billion funding commitment from developed countries for energy transition projects.
The peak occurred last March when the ASEAN Taxonomy Board (ATB) published the ASEAN Taxonomy for Sustainable Finance or ASEAN TSF 2.0 document. The ATB, formed by finance ministers and central bank governors of ASEAN member states, then updated the document in June. In the latest record, the ATB recognizes coal-fired power plant early retirement projects as a "green" sector if they are accompanied by plans to build clean energy power plants. "In other countries or international forums, the early retirement of coal-fired power plants is associated with the construction of new and renewable energy power plants," said OJK Chairman of the Board of Commissioners Mahendra Siregar on Tuesday, September 5.
OJK also began revising the Indonesian Green Taxonomy 1.0 by adopting the ASEAN TSF 2.0. However, the Indonesian Green Taxonomy Updating Concept 1.0 document prepared by the OJK Integrated Financial Services Sector Surveillance and Policy Department states that the revised material adopts the ASEAN TSF and follows "national interests." The revised OJK version of the Green Taxonomy also considers industry input from lenders such as banks to fund-using industries such as coal and palm oil companies.
Regarding the national interest, for example, OJK said the Green Taxonomy must align with the integration of economic, social, and environmental aspects. Therefore, the Green Taxonomy must align with various government initiatives, such as ETM, JETP, and carbon exchanges. Furthermore, the revised Green Taxonomy is expected to support the early retirement program of coal-fired power plants and should support the government's natural resource turnover program.
The document also includes input from the banking industry. In the film, it was written that banking industry players asked for a review of economic sectors categorized as red but significantly contributed to the national economy. They also requested OJK to reconsider the application of the green, yellow, and red concepts in the Green Taxonomy because it could indicate a negative list, aka a prohibited list. For example, banks are not allowed to disburse more loans to business sectors that fall into the red category. Green Taxonomy is limited to guidelines, not rules.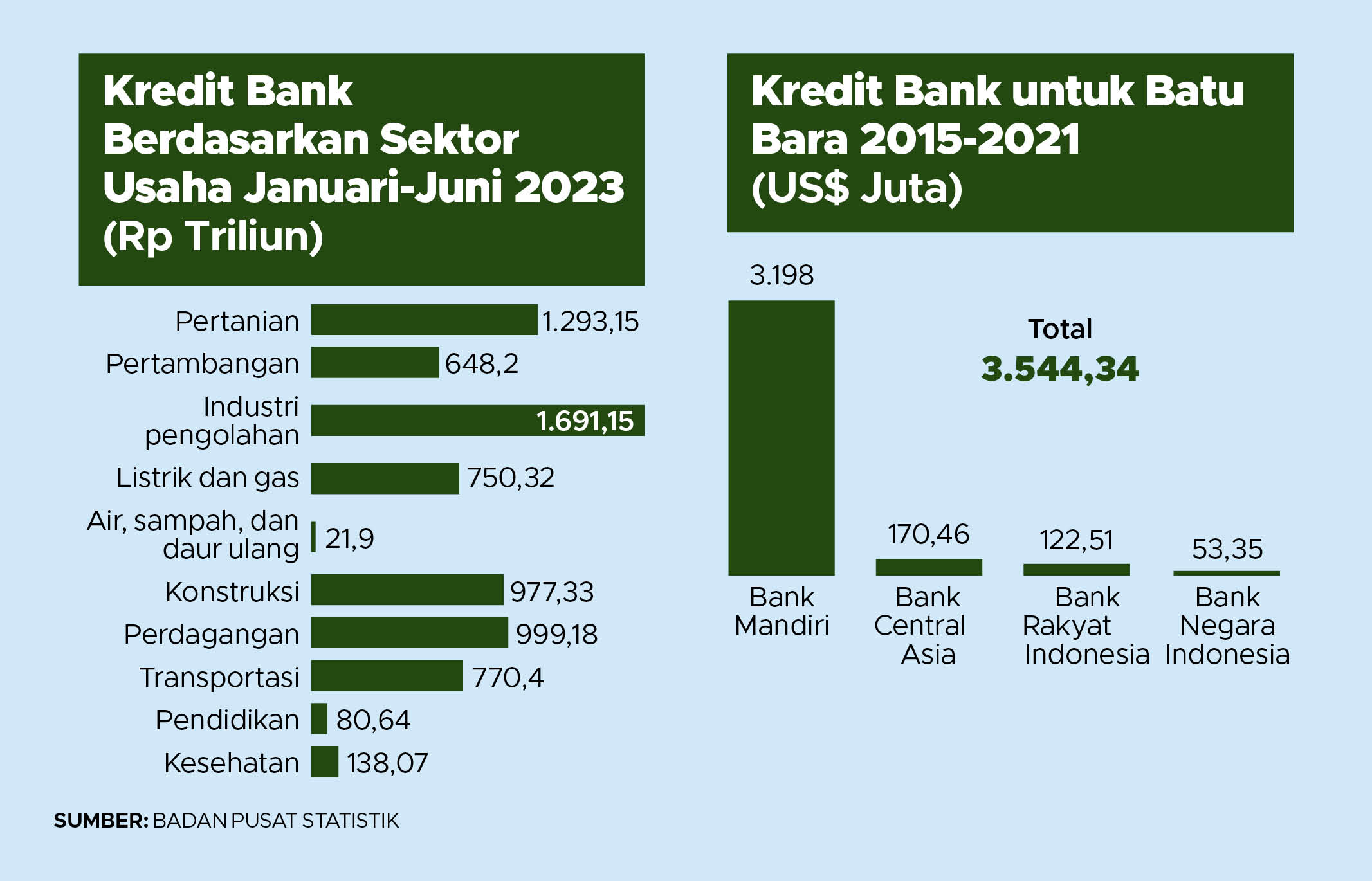 Another proposal from banks is that the new Green Taxonomy needs to consider the efforts of each sector to reduce emissions. Every industry in the red zone should have the right to upgrade to the yellow or green area if, in their operations, they try to be more environmentally friendly.
OJK also sought input from industry sectors that have been receiving funding. Discussions were held with business players in sectors most affected by implementing the Green Taxonomy, such as palm oil and coal companies. These two economic sectors are Indonesia's mainstay but are also the most affected by the Green Taxonomy because their industries are mainly in the red and yellow categories.
Executive Director of the Indonesian Coal Mining Association (APBI) Hendra Sinadia admitted that OJK invited him to discuss the taxonomy change plan in Bali last August. Because the arrival time of the invitation was tight, Hendra explained, he needed help to fulfill it. "But there are colleagues who joined virtually," he said on Thursday, September 14.
According to Hendra, APBI members are asking for more rewards for companies that try to protect the environment. He said the award was more than just a Gold Proper title for companies that have managed the atmosphere more than required or Green Proper for companies that have worked the environment more than needed and have biodiversity. "We have passed our obligations. There is a track record with the government. Paying attention to the environment costs money. We hope that there will still be financial assistance," he said.
The revised OJK Green Taxonomy plan discussion document included the coal industry's proposal. According to this document, coal is a reasonably necessary sector for the Indonesian economy. In the paper, several coal companies are said to have implemented good mining practices. Therefore, coal is proposed to be classified as green if its upstream and downstream business design is integrated and its utilization is apparent.
This matter was explained by the OJK Board of Commissioners Chairman Mahendra Siregar on Tuesday, September 5. According to him, OJK examines the possibility of coal being categorized as green in specific contexts, for example, used in power plants that power battery factories or electric vehicles. "Because what needs to be seen in turn is the overall result of a supply chain," Mahendra said. "If it has a greater positive impact than not doing it, as a whole, the integration of the supply chain (can) be considered green. This is what we are studying."
Meanwhile, the palm oil industry proposed reviewing the green and yellow palm oil criteria. In Green Taxonomy 1.0, every palm oil company wanting the green label must obtain two certificates simultaneously. Namely, the mandatory Indonesian Sustainable Palm Oil (ISPO) and the voluntary Roundtable on Sustainability Palm Oil (RSPO) to increase its marketability to the global market. If they only have ISPO, they are still in the yellow zone. Palm oil industry players propose that the ISPO certificate is enough to bring them into the green category.
Environmental activists then rejected this. National Coordinator of Publish What You Pay Indonesia Aryanto Nugroho called several proposals and plans in the revision of Green Taxonomy 1.0 a step backward. According to him, the most striking problem is the plan to give a green label to a particular coal power plant or captive power, even though the electricity is used for "green" industries. "We are talking about energy transition. Suddenly, OJK gives a green label and supports coal again," he said on Friday, September 15. "OJK is the most important factor when talking about the financing sector. If the OJK does not commit to the energy transition, the road will end," he added.
Director of the Climate Policy Initiative Tiza Mafira is in line. He revealed it is not logical if businesses in the downstream sector, such as battery factories or electric vehicles, can offset or become a substitute for carbon emissions generated by power plants and coal mining. According to her, if there is an offset scheme, it should first calculate the carbon emissions generated on the upstream and downstream sides. "But that is a carbon offset scheme, not a taxonomy," said Tiza.
Coal financing campaigner Market Forces, Binbin Mariana, considers the proposal to include coal with specific criteria to the green label hazardous. He explained that even when coal is categorized as red, local banks still finance PLTU projects. One example is bank syndication financing for captive power plants at the Adaro Energy group's aluminum smelter in North Kalimantan. "So why is it labeled green again? It does not affect local banks," he said on Thursday, September 14.
So far, Binbin added, the Green Taxonomy has been used as a guide by bondholders and shareholders. Environmentally conscious investors, he continued, only want to fund similarly oriented businesses through green financing schemes. "But if a coal or palm oil power plant is categorized as green, it deceives investors. If this happens, the state is endorsing fraud to investors," he said.
According to Binbin, banks do not violate anything when disbursing credit to projects or businesses categorized as red. "It's a matter of reputation," he said. However, Binbin added, banks are very concerned about their green reputation, which will affect their image in the eyes of the public and investors. "But, instead of improving reputation, banks want the Green Taxonomy to be overhauled," he said.
Responding to this matter, the Head of OJK's Integrated Financial Services Sector Surveillance and Policy Department, Henry Rialdi, said all proposals and inputs are being reviewed. "We want to align the Green Taxonomy with the government's energy transition program and its interoperability with the ASEAN Taxonomy," he said on Thursday, September 14. OJK will publish the new version of the Green Taxonomy in October or November for public comments and input.
During this frenzy, OJK is not only overhauling the content and criteria for green business in the Green Taxonomy. The name of the guideline will also be changed: Sustainable Taxonomy.
Source: Tempo Magazine