Yogyakarta – Publish What You Pay (PWYP) Indonesia; Ideas and Analyses Indonesia (IDEA) Yogyakarta, and Research Center for Politics and Government (PolGov), Department of Politics and Government (DPP) Faculty of Social and Political Sciences (FISIPOL), Universitas Gadjah Mada (UGM); in collaboration with the Ministry of Energy and Mineral Resources (ESDM), as the Secretariat of the Extractive Industries Transparency Initiative (EITI) held an Extractive Transparency Day with the theme "Contextualizing Transparency of Extractive Industry Data and Information in the Framework of a Just Energy Transition." This activity was held on Monday, October 16, 2023, at the Faculty of Social and Political Sciences Auditorium, Universitas Gadjah Mada, AB Building, 4th floor, Jalan Sosio Yustisia, Bulaksumur.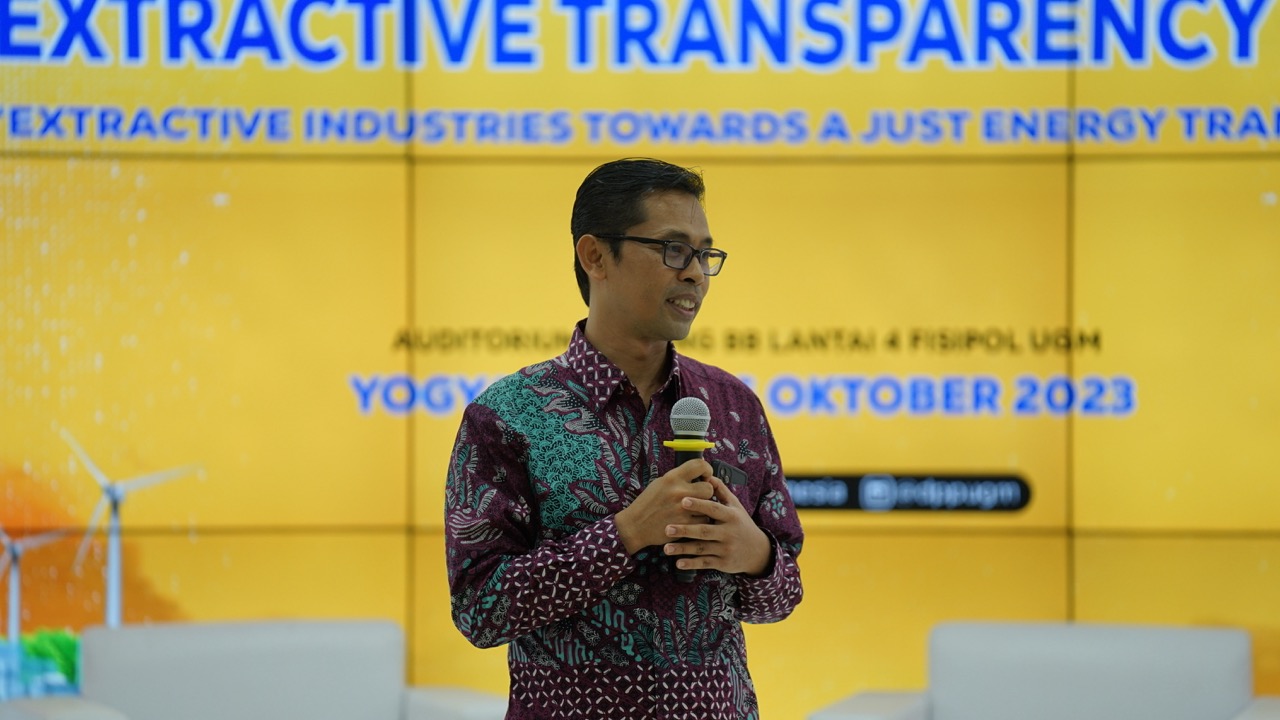 As the host, the Dean of FISIPOL UGM, Wawan Mas'udi, Ph.D, conveyed the importance of transparency in the governance of the Extractive Industry. On the other hand, climate change is currently a critical issue to discuss, mainly how to involve stakeholders in utilizing more renewable energy while still paying attention to justice and equality.
"There are efforts to build a green society, not only knowledge but also policy action. We must adapt to climate challenges in the form of policies. For example, the extractive industry is the main pillar of economic growth in various countries through the energy transition. It is the foundation of the country's financial resources. The current problem is that mining management has been unable to provide welfare evenly, so downstream efforts to support the energy transition are one of the hopes. Knowledge production from campus is expected to help policy-making actions", said Wawan.
Extractive Transparency Day itself contains a series of events, starting from the Public Policy Dialogue session, which presents speakers Amien Sunaryadi, Chairman of the 2023 Taxation Oversight Committee as well as Chairman of the Corruption Eradication Commission (KPK) Period 2003 – 2007; Binahidra Logiardi, Head of CSR Division of MIND ID; and Hasrul Hanif, Ph. D, Lecturer of DPP Fisipol UGM as well as Senior Researcher of PoLGOV with moderator Dr. Indah Suryawardhani, Lecturer of DPP Fisipol UGM. This Public Policy Dialogue is a space for discussion related to the importance of transparency of extractive industry information and the roles that can be taken by stakeholders (government, companies, civil society) in utilizing data and knowledge to support a just energy transition.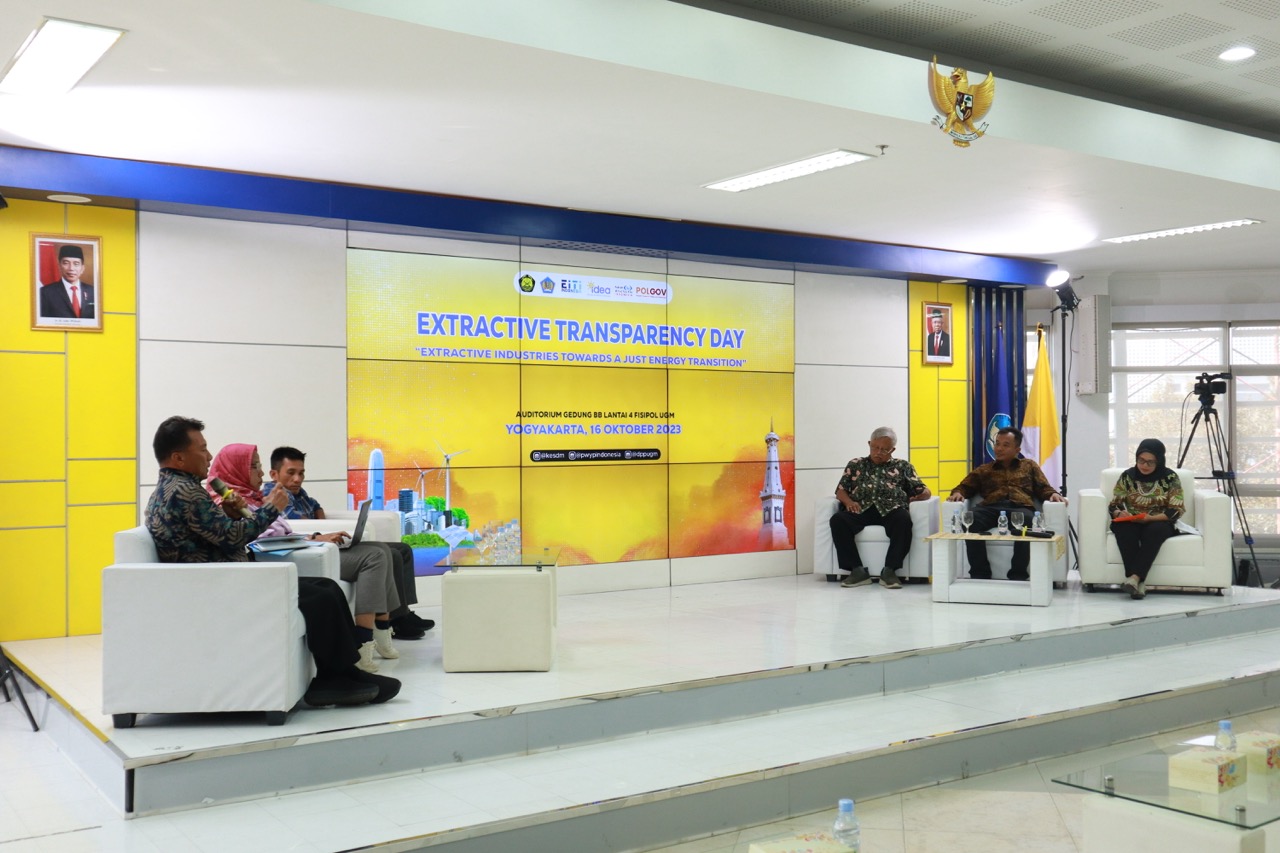 Furthermore, the Public Policy Dialogue session themed "Community Engagement in Just Energy Transition through EITI Implementation" disseminated a report on the work of a coalition of civil society organizations PWYP Indonesia with the support of the International EITI Secretariat related to efforts to encourage civil society and local communities, especially those in North Morowali Regency, Central Sulawesi Province located in Central Sulawesi, to have a better understanding of the impact of the energy transition on the extractive sector and their livelihoods, primarily related to local revenues from ongoing and planned projects, based on data disclosed by EITI Indonesia. Present as responders to the report included Sigit from the North Morowali Regency Environmental Agency; Mohammad Arif, a community representative from Towara Village, North Morowali Regency; Djoko Widajatno, Executive Director of the Indonesia Mining Association (IMA); Amalinda Savirani, PhD, Lecturer at DPP Fisipol UGM; with moderator Tenti Novari Kurniawati, Executive Director of IDEA Yogyakarta.
Extractive Transparency Day is also a space to socialize the Extractive Data Portal, which is part of the implementation of EITI Indonesia, by encouraging systematic disclosure. This mainstreaming of EITI routine disclosure changes from manual reporting to frequent online data disclosure. This mainstreaming is done to update data and information transparency, which is periodic and integral in extractive industry governance.
The Extractive Data Portal is expected to be a portal whose data and information can be utilized optimally and contextually by user groups from various circles, including the Central and Regional Governments, industry, civil society organizations (CSOs), media, and academics. This portal is also expected to be a one-stop data hub for extractive industry transparency that publishes data collected from the Oil and Gas (Migas) and Mineral and Coal (Minerba) mining transparency process regularly from relevant government agencies and other sources.
As part of this event, several stakeholders from the government, industry, and civil society organizations organized booths by displaying their products and activities related to the issue of implementing Environmental, Social, and Governance (ESG) principles, implementing transparency, or Corporate Social Responsibility (CSR).
It is hoped that in the future, Extractive Transparency Day can become a regular activity and can provide an opportunity for stakeholders and the wider community to meet, discuss, and discuss extractive industry issues, especially in making concrete and meaningful contributions to the sustainability agenda of implementing extractive industry transparency in Indonesia.
Author: Aryanto Nugroho