The transition from fossil energy and coal to renewable energy has been slow. Not because renewable energy sources are difficult but many factors, especially the strong political will of policy makers. Until now, renewable energy continues to be called expensive energy – as if it justifies the reason for using coal. Conditions are inversely proportional to other countries, which divert dirty energy into renewables, one of China.
The transition from fossil energy and coal to renewable energy has been slow. Not because renewable energy sources are difficult but many factors, especially the strong political will of policy makers. Until now, renewable energy continues to be called expensive energy – as if it justifies the reason for using coal. Conditions are inversely proportional to other countries, which divert dirty energy into renewables, one of China.
The various destructive forces of coal in the upstream and downstream areas do not seem to have any effect on the government. In the discussion of the revision of the 2019-2028 electricity supply business plan (RUPTL), at least the government will use more than 50% of the PLTU to distribute electricity. Although there are suggestions for additional renewable energy.
"We are proposing about 2,000 megawatts," said Zulfikar Manggau, Head of PLN's New and Renewable Energy Division, to Mongabay some time ago. PLTU is still dominant.
Six residents' houses were destroyed by landslides caused by the coal mining operation in Sanga-sanga. Photo: East Kalimantan-Special Jatam document
Immediately leaving coal energy to be renewable, it should be even better. Various facts and studies show the cost of coal externalities, such as pollution and health, especially the community around the mine and PLTU, now pressure is added to the economic argument.
Several studies released this year both provide explanations for why the government should abandon fossil energy and switch to clean energy to secure the country's economy, especially PT PLN. A study by the International Institute for Sustainable Development (IISD), for example, said that there were 15 subsidies from the government for the coal industry and PLTU. This study also states, if the externalities are included in the calculation of the electricity price, the figure is US $ 11 cents, which is more expensive than the cost of electricity from PLTU so far, around US $ 4 cents.
A study by the Institute for Energy Economics and Financial Analysis (IEEFA) also shows that the take or pay policy for a number of PLTU contracts is detrimental to PLN. Especially because the government has to pay for electricity regardless of whether it is used or not.
The condition of surplus electricity, especially in Java and Bali, has made a lot of electricity unused but still has to be paid by the state.
The mid-year Carbon Tracker also reminded the government with its studies, that if the PLTU continues and builds new, the government will face the risk of stranded assets. Unmitigated to reach US $ 34.7 billion.
At the end of the year, the public was shocked by the Coalruption report released by Greenpeace together with ICW, the Mining Advocacy Network (Jatam) and Auriga. This report opens up the figure of the political elite in the coal business who want this business to continue for the benefit of the few.
Search activities for the deceased's body in the former mine pit. Photo of Jatam Kaltim doc
These studies are not fully considered by the government. Ignasius Jonan, Minister of Energy and Mineral Resources (ESDM) has on various occasions emphasized that government policies are taken on a fair economic basis.
The government, he said, will prioritize electrification, no matter what type of power plant comes from. Most importantly, all get electricity first. After that, the focus will turn to renewable energy. Fossil energy, especially PLTU, is considered a quick, cheap and easy solution to fulfill it.
The government's ambition in 2019, electrification can approach 99.9%. Like parents who feed their children, for the government what is important is that all children can eat and be full first. Healthy and environmentally friendly food is not a priority.
No wonder the Institute for Essential Services Reform (IESR) calls the future of renewable energy in Indonesia "sailing against the storm." Evidently, with no significant progress in developing renewable energy in 2018.
In this mid-December Indonesia Clean Energy Outlook report, the IESR predicts that the outlook for renewable energy in 2019 is grimmer.
"At least until the first semester of 2019," said the IESR Director, Fabby Tumiwa.
IESR noted, the stagnation of new installed capacity of renewable energy power plants in the last three years. Even though last year there were 70 electricity sale and purchase agreements signed, after a year, about half of the projects had not yet finished financing matters (financial close). Also faces the risk of being shut down by PLN later this year.
Meanwhile, many developers have complained about the difficulty of accessing financing from financial institutions. On the other hand, financial institutions also have difficulty finding feasible projects. The bankability of renewable energy projects in Indonesia is mainly hampered by unattractive tariffs, the BOOT (build-own-operate-transfer) scheme and risk allocation for PLN and project developers.
According to Fabby, this gives a strong warning that the government is not on track to achieve 23% of the renewable energy target as in the national energy policy.
"The situation has continued to deteriorate in the past two years due to policies and regulations that have benefited PLN's interests but failed to create conditions that allow mobilizing private investment. As a result, renewable energy investment has declined since 2015, "said Fabby.
Domestic coal is absorbed, as an energy source for PLTU. In this picture, you can see small children playing on Menganti Beach, which is only less than one kilometer from the coal-fired power plant. Photo: Tommy Apriando / Mongabay Indonesia
How was 2019?
The IESR study also predicts that the situation in 2019 will not improve. Why? First, the time for the general election is coming. Price has become one of the central issues in the campaign. The government will keep electricity prices low.
Jonan also said that the government will not raise electricity rates until the end of 2019. In other words, renewable energy rates will remain lower to subsidize other higher generation costs.
Second, the Minister of Energy and Mineral Resources Regulation No. 50/2017 will still hamper investment in renewable energy because it is considered uncompetitive. Although the government has said that it will revise this regulation, the scope of the revision, such as during the revision of Permen 12/2017, tends not to be transparent and does not lead to an improvement in the investment climate.
Third, given the political conditions next year, it is very likely that investors will wait and see the election results and the direction of the new cabinet's policies in October 2019.
"Maybe it will only flow in the fourth quarter of next year. Therefore, most of the investment next year will be carried out by PLN and other SOEs. "
The IESR report predicts that renewable energy projects such as geothermal, wind, solar and biomass will remain stagnant until next year. Geothermal development will be limited to survey and pre-exploration activities to collect data.
Renewable energy project development will be limited to certain sectors. Roof PLTS which has the potential to be developed up to 1 gwp per year will grow slowly, especially among households.
Head of the IESR Research Division, Pamela Simamora, said, to attract investment, KESDM must improve the quality of policies and regulatory frameworks to support renewable energy investment.
For that, he said, it is necessary to make comprehensive improvements to various ministerial regulations that hinder investment, better manage risks and increase the confidence of renewable energy investors.
"There needs to be a strong leadership role in developing clean energy in Indonesia," said Pamela.
In addition, a clean energy cost scheme is also needed to support small-scale renewable financing, especially projects under 10 megawatts. The government also needs to provide fiscal incentives to increase the economy of renewable energy projects.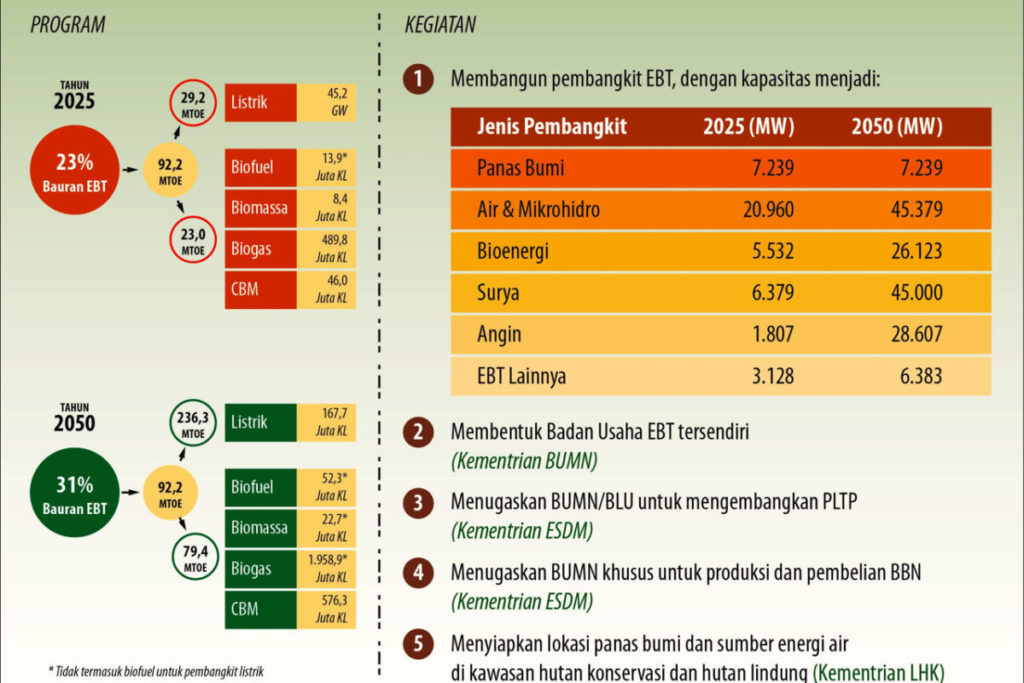 Governance
Maryati Abdullah, the National Coordinator for Publish What You Pay (PWYP) Indonesia assessed that various social and environmental irony, such as children dying in mining pits, criminalization of agricultural workers who refuse PLTU, collapsing residents' houses due to mining shows planning, monitoring and placement of funds for reclamation and postal obligations. mine is still weak.
"The public is also shocked by the corruption of the PLTU Riau 1 project, which shows the increasingly real political corruption of the fossil energy sector as a picture of the perfect interdependence between politics, policy and business in the extractive sector," he said.
The public appreciates the policy of opening beneficial ownership (BO) or beneficiaries from extractive businesses, however, it must include other policies such as prevention of conflicts of interest in public and business policies as well as integration policies as well as official asset declarations.
PWYP highlighted that the revision of the Oil and Gas and Mining Law is still not finished this year, after five years of being a national legislation program.
He said the DPR needs to play an effective role in overseeing various policies and executive implementation, for example, the Freeport divestment issue, mineral downstreaming, licensing policies, and permit control.
"The DPR looks cool, calm, and collected, even towards the victims of children in the mine pits and landslides that swallowed people's houses," said Maryati.
Indonesia's dependence on oil imports also haunts the current account deficit. Until November 2018, it was recorded that oil imports reached Rp. 176 trillion. Coal production was also out of control, exceeding the RPJMN target of 406 million tons to 585 million tons to catch up with the demands of the export market.
Meanwhile, the fulfillment of domestic coal was not fulfilled, only 69 million tons of the target of 131 million tons.
"This sector is faced with a complicated choice between controlling production and incentives for entrepreneurs."
The year 2018, he said, was still marked by the neglect of community rights in the implementation of mining activities. Public excitement over cases in the energy and mining sectors as well as the environmental and social impacts of pollution from extractive industry activities led to the declaration of the #B CleaningIndonesia movement in mid-September this year.
This movement consists of various non-governmental organizations inviting the public and youth or millennial voter groups to vote for clean energy and clean politicians who are not corrupt and support renewable energy. This movement aims to rid Indonesia of pollution, corruption, and environmental destruction.
This movement carries out various sympathetic actions and studies to strengthen public scrutiny on energy policy.
One of Indonesia's biggest renewable energy, namely wind power, has a huge source in Indonesia. However, its utilization is still very minimum. Foto: Tommy Apriando/ Mongabay Indonesia.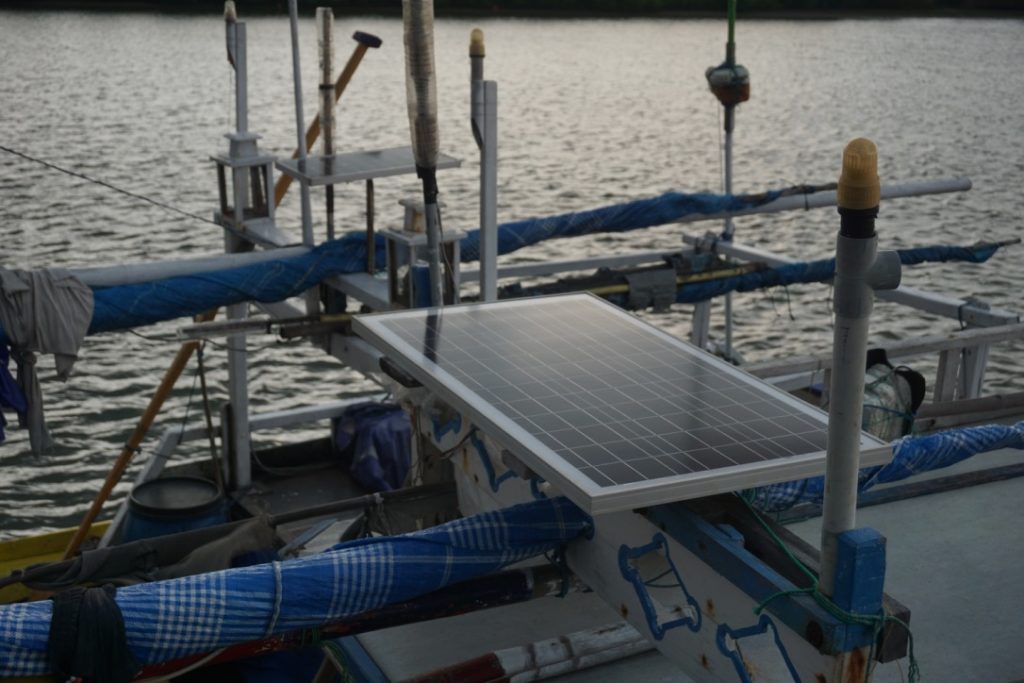 The panel boards for harvesting solar energy and the batteries are bought independently by the fishermen because they are more practical and cheaper to manage, especially lighting when fishing. Photo: Luh De Suriyani
Source: Mongabay.id