Aceh is the home of the Leuser Ecosystem Area, one of the most important conservation areas in the world. Unfortunately, nowadays forests in the Leuser area continues to suffer damage due to human activities. Public is considered to have lacked understanding of the importance of the Leuser Ecosystem Area as the world's lung and also Aceh's environment problems in general.
For this reason, an Aceh based NGO named Forest, Nature, and Environment of Aceh (Hutan, Alam, dan Lingkungan Aceh-HAkA) conducted discussion on environmental film entitled "The Role of Youth in Conserving the Leuser Ecosystem Area" at University of Muhammadiyah Banda Aceh, last (16/2). Fragment from Pining Film, initiated by Publish What You Pay (PWYP) Indonesia was chosen as one of the films screened.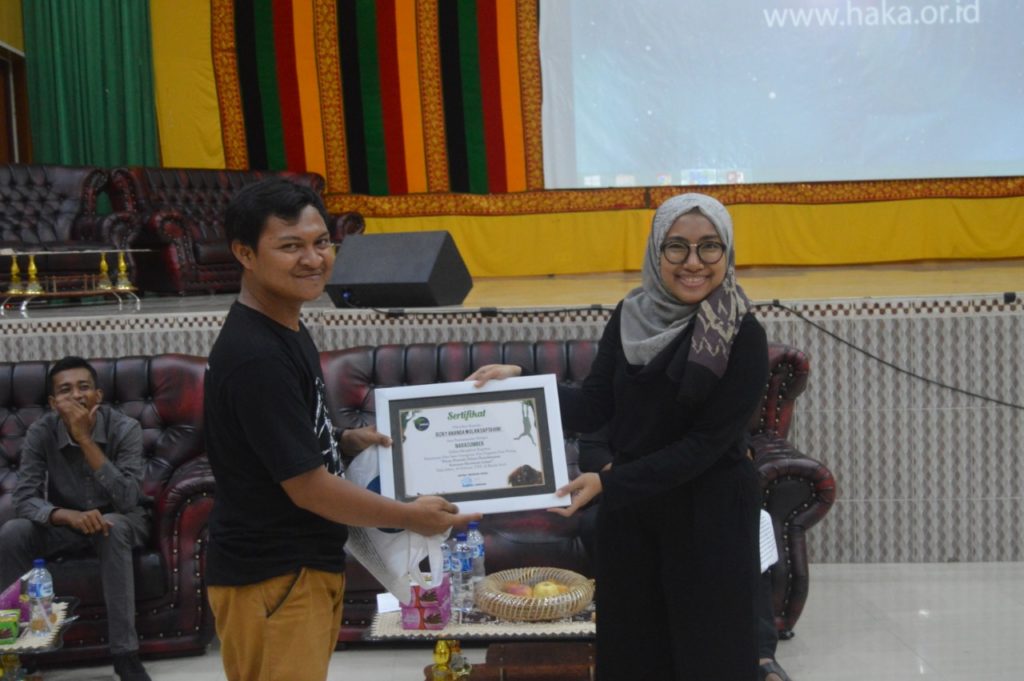 The film screening was attended by Rizky Ananda Wulan, Program Manager at PWYP Indonesia as well as the film producer of Fragment from Pining. Rizky explained that the film is aiming to raise a story about the Pining community leader, named Abu Kari, who initiated efforts to save the Leuser Forest from mining threats.
"The main message of the film is that it doesn't have to be a perfect human being or big institution, an ordinary people is also able to contribute in preserving the forest. All needed is awareness and commitment to make it happen," said Rizky.
Rizky continued, as a young generation, we need to be aware that we are the ones most affected by today environmental problems. Therefore, we must actively participate in the efforts to save forest and the environment. Many channels can be utilized, such as social media, social movements, to political participation and aspiration.
Abu Kari, the main figure in the film also attended the film screening. Abu Kari described that the Pining community had close relations with nature. The ancestors of the Gayo Tribe have lived in the forest for a long time.
"So, the forest must be preserved, the mining industry should not damage it. Because the next generation doesn't need mine. The next generation needs water and forests," asserted  Abu Kari.
Irham Hudaya Yunardi, the chairperson of the activity, said that the film screening was HAkA's effort in improving the public understanding, especially the younger generation, on environmental issues in Aceh. Hopefully, this activity can move the youth to actively participate in a movement to protect Aceh's forests, especially the Leuser Ecosystem Area.